In the Orthodox church (and in other churches, as well) it is customary to have decorated candles at weddings and baptisms.  They are often lavishly decorated with ribbons, fabric and sometimes icons.  I love creating more contemporary-styled candles for this purpose.  Since kick-starting my shop a little over a year ago, I've found that I most enjoy beading on beautiful fabric and ribbons and then applying this to the candles.  I have so many new ideas that I've decided to have a small sale on three of my designs in an effort to make way for some new designs. I'm calling this a "last chance" sale, since I won't be creating these candles anymore after selling what I have listed.
LAST CHANCE SALE:
PEARL SPIRAL–SOLD OUT
SOLD OUT
These were the first candles I created, and are all elegant simplicity.  They are customizable to your choice of ribbon.
View the listing here.
SEA AND SKY
There's only one of these candles left.  It features a "candle charm" with a shell bead, natural pearl beads and swarovski crystals in various shades of blue.  Just looking at this candle reminds me of the seaside.  🙂
View this Maine-inspired candle here.
PINK ROSE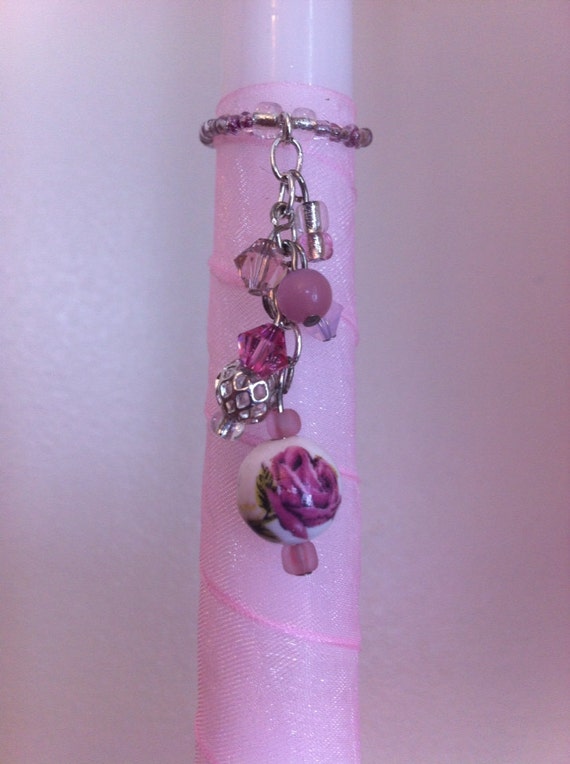 This is the "sister" candle to my "Sea and Sky" design.  It features a "candle charm" with a large printed rose bead and swarovski crystals in various shades of pink.
View this perfectly pink candle here.
********
OTHER CANDLES
While you're at my shop, check out some of my other candles:
RIBBON AND LACE
This candle has been really popular for baptisms and christenings.  It features eyelet lace over satin ribbon and a lace bow.  It's customizable to whatever color you would like, but pink and blue (the most-requested) are always available.
View here.
SPLENDOR
I created these candles to accompany my "Splendor" crown set.  They are simple but beautiful with gold trim and gold-and-cream paisley.
View here.
ANTIQUE GRACE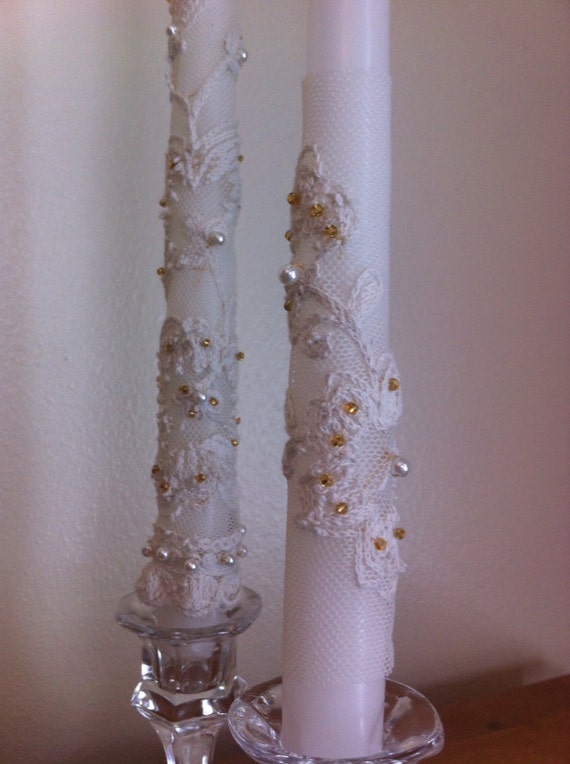 These are my first beaded fabric candles.  The embroidered net comes from a re-purposed clearance-rack dress that I loved but could not wear.  I added the beads to make it extra-special.  There are two different styles (and listings): a 12-inch candle, made from the middle of the skirt, and a 15-inch candle, made from the bottom of the skirt–it still has the ruffled hem!
View the 12-inch candle.
View the 15-inch candle.
VIOLET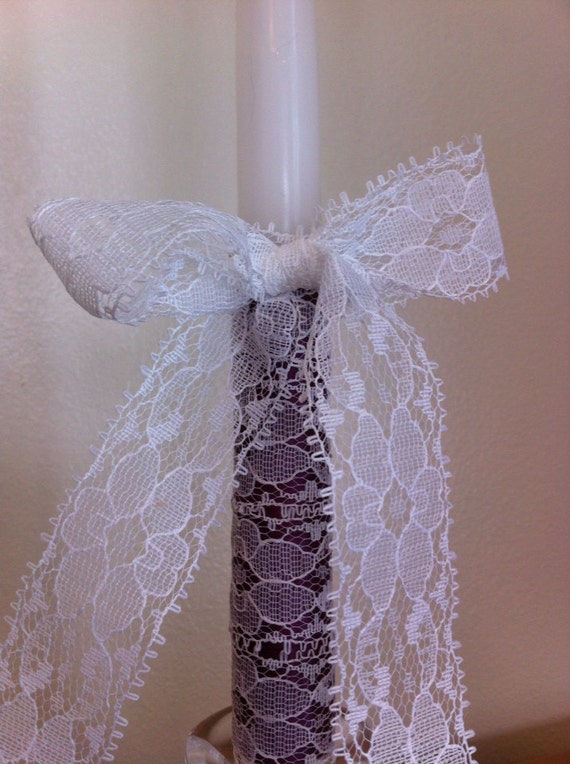 This candle is similar to my "Ribbon and Lace" candles, but it is ready-made.  It features wine-colored purple ribbon underneath some vintage lace, which I found at a thrift store.  The same lace is tied in a fluffy bow to complete the candle.  The back of the candle features a row of miniature pearl buttons.
View more photos here.
WONDER OF WONDERS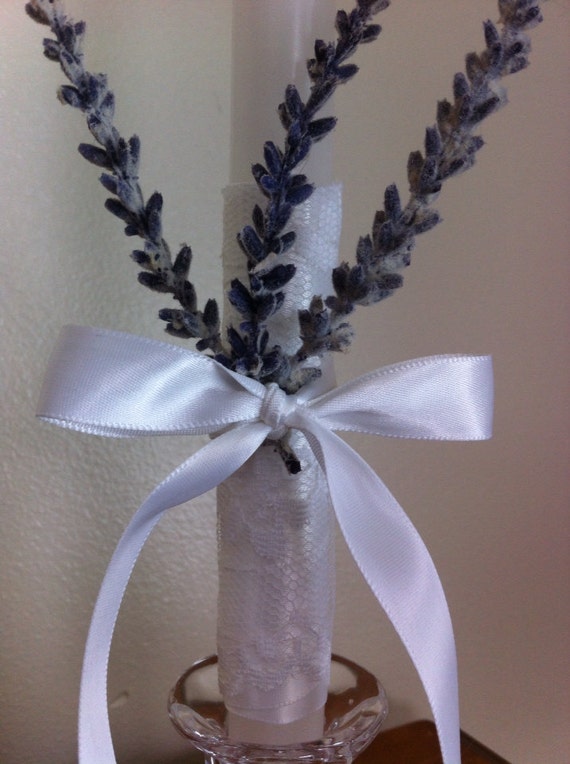 This is my most recent design.  It was inspired by the film "The Fiddler on the Roof" and features white satin ribbon, Chantilly lace, frosted lavender picks, and pearl pins.
Read more about the inspiration for this candle here.